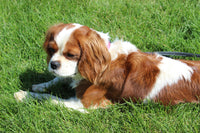 About Cavalier King Charles Spaniel
Cavalier King Charles Spaniels are a very kind and gentle breed. They are good around children, dogs, cats, and other animals. Some do love to chase small animals such as squirrels, so keeping them on a leash in public and having a fenced yard is needed. Cavaliers are lap dogs and require a lot of attention. Cavaliers want to please their owner making training fairly easy with a gentle approach. 
More About Breed
Cavaliers have a shoulder height of 12-13 in (30-33 cm) and weighs 12-18 lbs. (5-8 kg). Cavaliers have long, soft, silky hair with average shedding. With their long hair, brushing should be done several times a week and bathed when necessary.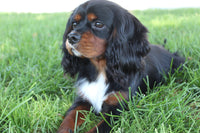 - Cavaliers King Charles Spaniel & Cavapoos Adoption - How it Works
Application and Deposit
Fill out our Adoption Application and leave a $300 deposit, both must be done to be approved. If you are interested in a specific puppy in our list of available puppies, you can leave a deposit for the puppy you would like to claim. If we don't have one available, you can still fill out our application and leave a deposit for a future litter. You can check out our upcoming litters to help you know when the next litter is due to be born.
All our puppies come with 
AKC Registration (Cavaliers) or CKC Registration (Cavapoos), Health Guarantee, Copies of Parents OFA papers, Vet Checked, First Vaccines, Microchip, Dewormed, Pedigree, Small bag of food, Treats, and Toys.
Final Puppy Payment
All puppies must be paid in full before taking your puppy home. If your puppy is going to be shipped your puppy must be paid a week before shipping day. Final payments must be paid with Cash, Venmo, or Zelle.
Shipping Your Puppy 
We only ship within the continental United States. Cargo shipping costs $400 which includes air fare, crate, Vet's Certificate of Health, and transport to the airport. Cargo is not always available; shipping may change or be canceled due to the weather being too hot or cold. The safety of the puppy is our highest priority.
Air nanny costs $700 which includes air fare and transport to the airport. Your puppy will fly in the cabin with the nanny and you will pick up your puppy at the airport.